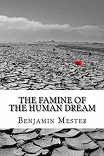 The following essay is taken from my book, The Famine of the Human Dream.  Thanks for reading!
Justice
The ancient Greeks held that justice was the highest virtue one could aspire to, higher than wisdom, courage, compassion or self-control. To Plato, the four chief virtues were first justice, then wisdom, then courage, then temperance. Marcus Aurelius also proclaimed justice as the paramount virtue:
Do not be tossed about, but in every act have respect for justice.
And again:
In justice all other virtues have their foundation.
And in the Bible, we see this:
He has told you, o man, what is good; and what does the Lord requires of you but to do justice, to love kindness, and to walk humbly with your God.
Micah 6:8
So what is this notion of justice that seems to resonate throughout the halls of time? Is it nothing more than punishing the criminal element of our society? Or perhaps, by justice, they meant living a life of fairness. Be fair in your dealings with others. But fairness can hardly be the most honorable virtue a person can strive to achieve. Living with fairness seems trite compared with living a life of wisdom, or living a life of compassion for the poor.
This idea of justice as the chief virtue becomes evident when one considers the difference between perfect and imperfect justice. There are two forms of justice. The common form is known as retribution: to punish the wrongdoer for their wrongs. This we see in operation round the globe, with courthouses and prisons and officers of the law. Retribution is imperfect justice because it does no good to the wronged party. An angry thief murders my loved one and is thrown in prison, but I, the wronged party, am no better off. I have lost what I cannot get back and retribution does nothing to compensate my loss. Retribution is the imperfect, temporal form of justice, only in effect because as humans, it is much easier to destroy than to build.
True justice is restitution: to restore what has been lost. A child steals his fellow's bicycle, and subsequently damages it and puts it back, hoping not to get caught. What will the parents of the offending child do when they find him out? They'll make him save his allowance until he has money enough to repair the damage to his fellow's bicycle. In effect, cause him to restore what he destroyed. This is true justice, perfect justice.
Restitution is the act of restoring what was lost, broken, or destroyed. It is perfect justice because it effects both parties. The offending party must spend their energies and resources to make the offended party whole. But in this world, where tragedy is so prevalent and menacing, we cannot see restitution function but on a very small scale. We destroy what we cannot restore, and so are left with one option, retribution.
This perhaps is what the old philosophers all meant by justice. When they said that we ought to walk justly, perhaps they meant that we ought to be restorers – to be peacemakers, encourage the lowly and brokenhearted, and comfort the afflicted. Consider the passage in Isaiah that Jesus proclaimed as his life message:
The Spirit of the Lord God is upon me,
Because the Lord has anointed me
To bring good news to the afflicted;
He has sent me to bind up the brokenhearted,
To proclaim liberty to captives
And freedom to prisoners;
To proclaim the favorable year of the Lord
Isaiah 61
The mission of Jesus was one of restoration – to bind up the brokenhearted, free the prisoners, and proclaim liberty. The nature of God is to restore. God is not like man. He doesn't share our weaknesses and limitations. He is always of a mind to restore, to bind up the brokenhearted and place the orphan in families. He has the will to restore and the power to carry it into effect.
Justice is a theme that should be much more common in theology. Due to the influence of the King James version of the Bible, many of the newer translations of the Bible, the word for justice, 'dikaiosune', is often translated Righteousness instead of Justice. Most biblical scholars agree that the Greek word 'dikaiosune' is more properly translated 'justice', however, in the King James version of the Bible, the 92 times the word dikaiosune is found, all 92 times it's translated as 'righteousness'. This is primarily due to justice having a negative connotation, as humans think of justice as retribution, and not the perfect form of justice, restitution.
But when you think of true justice as restoring what was broken and lost, these passages make more sense. A poignant example of this is Matthew 6:33, which is a very common verse. It could equally be translated this way:
But seek first the Kingdom of God and its justice, and all these things shall be added to you.
In the context of understanding true justice, this makes more sense. If justice is restoration, then seeking Kingdom justice means seeking restoration for the broken things of earth. That is why Jesus prayed Your will be done on earth as it is in heaven. When something is broken, the just shall actively seek to restore it. That is the heart of God. Justice is the primary theme of most ancient philosophy, and is also primary throughout the Bible, though is hidden in this word righteousness.
It is said that the leader of the Christian Reformation, Martin Luther, had a difficult time with this concept. He couldn't understand how in Romans 1:17 that:
In the Gospel the justice of God is revealed.
Most Bibles translate the word justice here as righteousness, but the leader of the reformation understood that righteousness and justice were interchangeable in this passage. But if justice is seen only as retribution, then this verse doesn't make sense. But in the Gospel of Jesus, we see both forms of justice in operation. God punished sin in a retributive manner through Jesus' death on the cross. But God erased the effect of sin in a restorative manner by trampling over death, hell and the grave, restoring man to a right relationship with God. So in the Gospel of Jesus, we see complete justice of God in action.
In the old testament, God was seen as a retributive judge, often punishing sin immediately by inflicting death, disease, or famine on offending parties because of their sin. There were hints of His restorative justice, but none knew fully what kind of God this way who made man in His image. But through the Gospel of Jesus, the justice of God is fully revealed, and God the restorer is shown for who He truly is.
This is how God's perfect justice and perfect mercy function hand in hand. God's perfect mercy seeks to restore that which was lost. God's perfect justice seeks to restore that which was lost. They are in essence, the same concept.
Being just means actively seeking to restore the broken things around us – damaged systems and people. There are different methods by which we accomplish this, but one reigns primary, and is in fact the same method which God uses to restore us. This we will discuss in the next essay.